This Newsletter
---
... is a quick tip ezine for Managers who believe in "Results Derived from Within"
Written by: Vickie Bevenour, a Professional Certified Coach, PCC
Your Subscription
---
You are receiving this because you have subscribed or someone you know thought that you might enjoy the tip and has forwarded it to you.
If you do not wish to receive this tip ezine in the future, click here to send us an email with the word cancel as the subject.
If you wish to subscribe, click here to send us an email with the word subscribe in the subject.


January 2013 Winning Life's Lottery in 2013

Happy New Year to all. I hope that your Holiday season was joyous and fun for you and your family. How are you feeling as you begin the New Year? I have a big question for you so please…..read on:

I live in North Carolina and at the end of 2012 the State lottery (combined with many other states) was one of the biggest jackpots of all time. A local television station interviewed several people after buying a lottery ticket asking the age old question "What will you do if you win the lottery?" To my surprise (sadness) every single person's first answer was that they would quit their job because they hate it so much. I had to ask myself:

What is winning the lottery in life?

All of these people were standing in line to buy some amount of their two dollar ticket with seemingly impossible odds to win, hoping that "the win" will fix their career issues. So I ask you again:

What would winning the lottery in life look like to you?

As you begin 2013 could this be the year for you to win life's lottery? What would it take for you to do that? Does it seem like an insurmountable task? If so, let's break it down to the first phase……planning.

It has been said, "if you do not have a plan you will never know when you get there". You could make this as simple as asking yourself:
What is the one thing that I want to change in my life this year?

What is the first step to making this change?
By asking yourself these questions, being honest with yourself about the answers and then committing to DO something, you are well on your way to winning life's lottery.

For those of you who are looking for a broader strategic planning tool, I recommend THE GOALS GRID (http://www.nickols.us/goals_grid.htm).
Basically this tool asks you four questions:
What do you want that you don't have? (Achieve)

What do you want to keep that you already have? (Preserve)

What don't you have that you don't want? (Avoid)

What do you have now that you don't want? (Eliminate)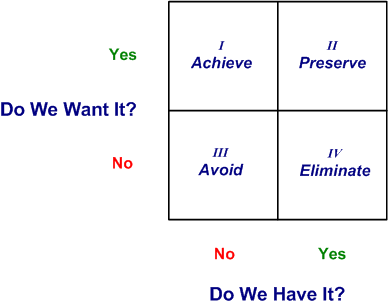 Figure 1 - The Goals Grid

These four questions could become the basis for your 2013 planning and for you to win life's lottery. The Goals Grid is a useful tool for achieving clarity of your goals. It prompts you to think about your goals and objectives in an organized manner and from four different perspectives. Congratulations by thinking about taking control of your life to win the lottery you are deriving results from within.


*To review any of these past newsletters, please visit the Newsletter section of www.CoachVickie.com
---
If you like the tip, let us know but more important, share it with a friend or colleague. As always, YOUR SUCCESS IS MY GREATEST PLEASURE.